School Visits and Conferences
I love to talk about books and writing and being a writer, and I would love to be invited to your school or your conference!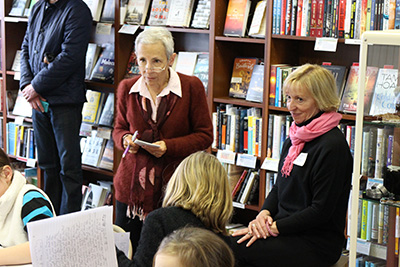 In schools, I've spoken to big assemblies and small classes. I don't make a power-point presentation, but I do have images to show the children, including a copy-edited manuscript, photos taken on location when Ella Enchanted was filmed, two paragraphs from the published Dave at Night that contain a mistake. I use the mistake to get into the publication process and especially into revision.
I'm delighted to conduct writing workshops in schools too. Usually, for a workshop, the kids write ahead of time, because it isn't the best use of my time to have me silent while they're working. An exercise from Writing Magic selected by the teachers or the librarian has always been a success. Or, in a recent class, the children wrote a chapter following the final chapter of Dave at Night. The kids have to be willing to read their work out loud for this to succeed.
I begin by talking about how to give criticism and how to receive it, and I suggest what to listen for when someone is reading. I tell the children to have pen and paper ready so they can write down their impressions, and I instruct the readers to listen silently to the comments and take notes if they need to, but not to explain the criticism away, to allow it time to rattle around in their brains. After the children give their feedback, I weigh in with mine. Of course I'm constructive and positive. What I look for most is places that confused me and may confuse other readers.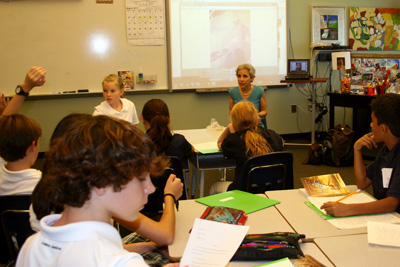 Photo by Bill Cherry, Heathwood Hall Episocopal School
All the writers I've talked to about school visits say that the most important ingredient for success is for the children to have read at least one book by the author. I agree. If the kids know at least one of my books, they're more interested and more curious, and everything I say has more weight. I understand that schools sometimes use a visit to introduce an author's books, and I respect that. Just sayin'...
You may know that I've been teaching creative writing as a volunteer for many years. When I became able to write full-time, I felt so lucky that I had to pay back some of my good fortune. I began teaching after school at my local middle school. Six years later, I grew too busy so I continued only during the summer through the public library, which I've kept doing for the last eight years. I love it! Many kids return year after year, and I delight in seeing their progress and watching them grow up. Some have been bitten hard by the writing bug.
My goals in teaching are to make writing, which is hard, as much fun as it can be and to infect the kids with my enthusiasm for our rich English language. Teaching gave me my book, Writing Magic, and it sometimes informs my speeches at librarians', teachers', and writers' conferences. Of course, I'm guided by the interests of the conferees. I talk about teaching writing, becoming a writer and my career, my books, publishing as I see it, aspects of writing.
If you'd like to invite me to your school or to a conference, please write to my booking agent. I hope you do!