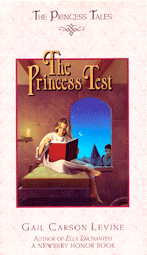 Naturally, this is "The Princess and the Pea," which interests me because of the many unanswered questions tucked inside.
For example, who could feel a pea under twenty mattresses? And what kind of proof of royalty is that odd ability? And where did the princess come from, to appear dripping wet at the castle door?
When I retell an old story I look for characters who will go in the direction of the story without forcing, and the big challenge here was to find my heroine. She turned out to be a blacksmith's daughter with a host of allergies!
True princesses exist in real life. They may be male or female. They can be you, and you can still be a wonderful person. True princesses are the ones who need the room temperature exactly right, can taste if food is the slightest bit off, hate to get wet in the rain. We all have true-princess moments, but some people have them constantly. Who are the TPs in your life?