On the book jacket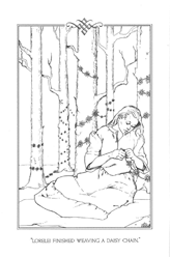 © 1999 Mark Elliott
Lorelei found the flake of tuna in the chocolate cake icing. Four princesses didn't. The meal was over. Lorelei and the crocodile princess and fity-seven other princesses remained in the game.
Lost and hungry, wet and sneezing, Lorelei stumbles upon an unknown castle. She is admitted, and finds herself in the middle of the Princess Test. King Humphrey and Queen Hermione have devised this to find a real princess for their son, Prince Nicholas. But the prince doesn't care about real princesses or imposters. He just wants to marry the maiden he loves. Can Lorelei pass the test? Can she win the prince's heart?
In this second of Levine's Princess Tales, she spoofs the notion that any test can prove a person's pedigree, and celebrates true love over blue blood.
HarperCollins Children's Books, 1999