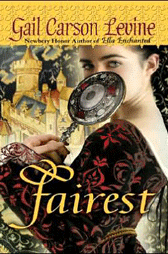 My editor asked me to write another book in Ella's world, and the more I thought, the more I felt the new one should be a fairy tale too.
To me, the next biggie after "Cinderella" is "Snow White."
I reread the story, this time struck by the queen's wishes for her unborn baby's appearance.  Shouldn't she be hoping for health rather than beauty?  And who wants skin as white as snow, lips as red as blood, hair as black as ebony?  Hideous.  Ah.  There's a book in that.
I decided to set the story in Ayortha, where Ella's friend Areida comes from, and make Snow White be Areida's adopted sister.  But Ayortha is a kingdom of singers, and I had trouble carrying a tune.  I needed to be an expert, so I took singing lessons—from an opera star.  I'm still not much of a singer, but I learned to hit A above high C!