On the book jacket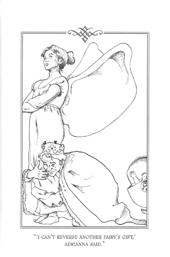 © 1999 Mark Elliott
A spiteful fairy. A beautiful princess. An outstretched finger. A spindle. A hundred-year snooze. A charming prince. A kiss. All the familiar ingredients.
But wait! Where did that extra prince come from? And those fairy gifts that have never been there before? And what does a flock of balding sheep have to do with anything?
Gail Carson Levine has waved her magic wand over this old standby, and presto! It reappears, transformed--new, sparkling, and funny! Hoots and guffaws are likely, chuckles and giggles guaranteed.
In this third of her Princess Tales, Levine shows a precocious but lovable girl taking control of a destiny she never asked for, with hilarious and happily-ever-after results.
HarperCollins Children's Books, 1999