On the book jacket
There she was, chartreuse and warty and smiling at him. Such a nice smile. Something in his heart fluttered.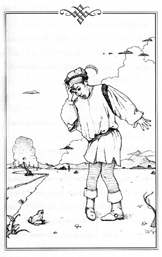 © 2002 Mark Elliott
The young maiden, Parsley, will eat nothing but parsley, which in Snettering-on-Snoakes grows only in the fairy Bombina's garden. All is well—until Bombina is released from the fairy queen's dungeon. Her crime? Failing to get along with humans. And turning them into toads.
Meanwhile, twin princes Randolph and Rudolph are causing trouble at Biddle Castle and pinning everything on their younger brother, Tansy. Prince Tansy cares about Biddle. Randolph and Rudolph don't. But one of the twins will be king, unless Tansy accepts help from a green Biddlebum Toad!
A delightful retelling of the little-known German fairy tale "Puddocky," this fifth Princess Tale from Newbery Honor author Gail Carson Levine shows that nothing is quite as it seems and that anything is possible, with a dash of magic and a barrel of love.
HarperCollins Children's Books, 2002