On the book jacket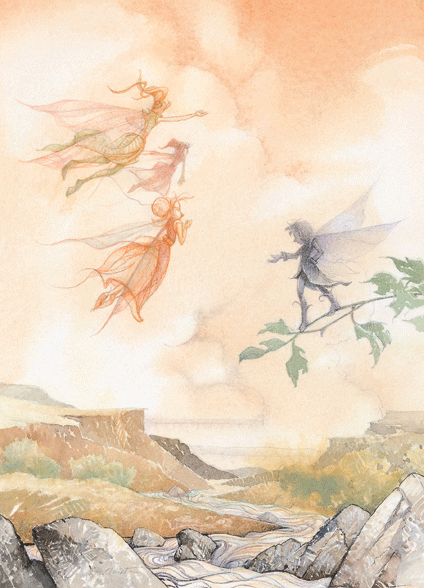 by David Christiana, ©Disney Enterprises, Inc
Gwendolyn Carlisle loves fairies, perhaps too much. On her birthday, she receives the precious "kiss" necklace, which has been passed down from mother to daughter ever since Peter Pan gave it to Wendy Darling. That night, Gwendolyn has her first tantalizing vision of Fairy Haven. She sees animal-talent fairy Beck give a pie to wise Mother Dove. Later she hears the voices of water-talent Rani and even Tinker Bell herself.
More than anything, Gwendolyn wishes she could be there. At last, Peter Pan comes for her. The instant they reach Never Land, she sets out to find fairies. But the fairies are not eager to meet her.
Then the evil Kyto, a dragon the fairies once helped to capture, escapes. He intends to destroy Never Land, starting with Fairy Haven. The fairies have but one choice: they must stop Kyto. As they begin their desperate quest—a quest that could be their very last—the fairies must decide if Gwendolyn can help or hinder...
Infused with magic and feeling, and bursting with excitement, this thrilling tale is the third in the celebrated series of illustrated novels from Newbery Honor-winning author Gail Carson Levine and renowned illustrator David Christiana.
Disney Press, 2010